Summer Peach Skillet Upside-down Cake
I can't tell you how many times i've optimistically bought peaches and totally forgotten about them. I miss their small window of juicy sweetness constantly and end up with a moldy mess. It's sad really - because when caught at the opportune moment, peaches are a delicious summer snack great for picnics, cookouts, and porch hangs. Since I can't be responsible enough to buy them and eat them straight, I decided to turn them into a cake.
This cake was baked in a 9" cast iron skillet pan and the recipe was direct from the Lodge cookbook! I was skeptical about baking a cake this way, but wow it turned out great. The batter was light and fully - the product of sifting the dry ingredients three times. The diced peaches were soft and flavorful after being macerated in brown sugar and butter. I held my breath as I flipped the cast iron pan on to the serving plate (my first upside-down!) but it came out easily with one big 'plop'!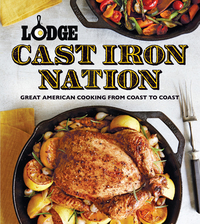 You can find this recipe in Lodge: Cast Iron Nation: Great American Cooking from Coast to Coast